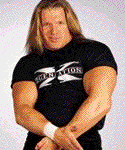 Real Name:
Jean-Paul Levesque
Born:
July 27
Height:
6' 4"
Weight:
246 LBS.
Hometown:
Greenwich, CT
Debut:
May 1995
Finishing move:
The Pedigree
Career Highlights:
-
WWF Heavyweight Champion (4)
-
Former WWF Intercontinental Champion (2)
-
1997 King of the Ring
-
Former WWF European Champion (2)
For all intensive purposes, Triple H could be called one of the most improved superstars of 1996 and 1997, as he overcame the heavy hand of Federation officials to become not only the Intercontinental Champion by beating Marc Mero, but the 97 King of the Ring as well in a tournament final win over Mankind! Following his victory for the cape and crown in June, Hunter entered into a vicious and bloody fued with Mankind--facing the Boiler Room Dweller at July's "Canadian Stampede" and a steel cage showdown as August's SummerSlam.
After their war seemingly came to a halt, HHH's longstanding friendship with Shawn Michaels was revealed, leading to the formation of D-Generation X. In the months that followed, DX would become one--if not THE--most controversial and influential groups in the history of professional wrestling. Their first strike was the total destruction of the Hart Foundation, which was accomplished when Shawn beat Bret Hart at the '97 Survivor Series for the Federation Title. Next, the trio viciously mauled the Legion of Doom, and took credit for nearly ending their careers!
After claiming that Shawn Michaels "dropped the ball" at WrestleMania XIV, Triple H has taken over as the leader for DX! During his first night in power, Hunter turned the wrestling world on end by announcing the formation of the DX ARMY. After introducing X-Pac to the world, Triple H also revealed that the New Age Outlaws had officially joined the faction as well! With D-Generation X now five members strong--and possibly growing in the near future--they have become the most powerful force in all of wrestling!
HHH later left his DX roots at WrestleMania 15 by turning on former friend X-Pac, he wrestled through the summer of 99 with one goal, becoming the WWF Heavyweight Champion he fought the Rock at the July 99 Fully Loaded pay-per-view defeating him in a strap match to become number one contender. HHH went on to SummerSlam to face Austin and ManKind in a Triple Threat Match for the title, HHH did not walk away with the title that night but less then 24 hours later on RAW, HHH faced ManKind for the Heavyweight Title defeating him with the pedigree and becoming the WWF Heavyweight Champion. HHH is sure to be a name cemented in the WWF for a long time to come.